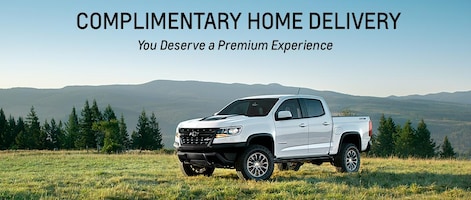 At Goodwin Chevrolet Buick Oxford, we put people first. 
Let our service team handle your vehicle's needs with complimentary pick-up and delivery.
During these unique times we'd like to let you know that our Service Department is considered an essential business and continues to operate daily.
FAQ 
Q: How far away can Service pick-up and delivery be done?
A: Goodwin Chevrolet Buick Oxford offers free home delivery to anywhere in Maine as long as we can safely accommodate our drivers.
Q: Can you deliver across state lines?
A: 

Yes, if the destination is within 100 miles of our dealership

, provided the transaction allows it. This can be affected by vehicle registration, etc, and is best sorted out through a discussion with a member of our sales team.
Q: Is complimentary home delivery really free?
A: Yes.